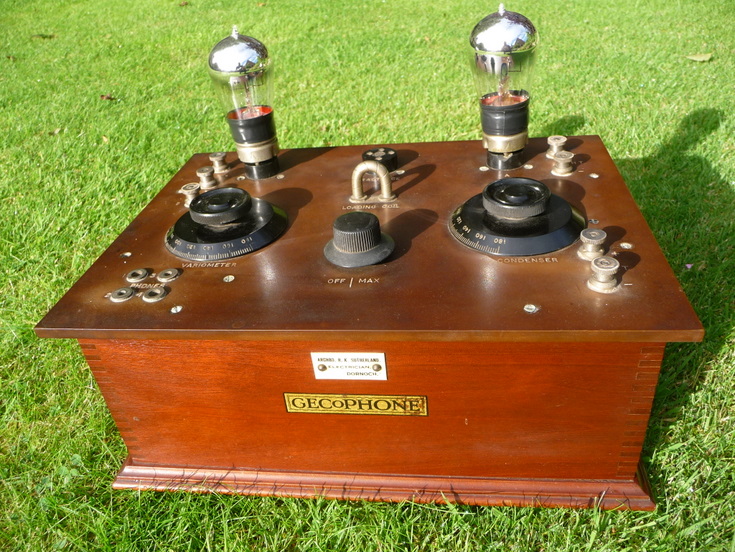 Historylinks
Gecophone two valve radio c 1924
Gecophone two valve radio for use with headphones. Bought in 1924/5 by Dornoch GP Dr MacLachlin. It was the first radio in Sutherland. At some point it was repaired by Archbd. R. K. Sutherland who had a repair shop in the basement of what is now Gordons newsagents. Radio was subsequently acquired by Murdo MacPherson who had it at his croft in Achvandra.
Radio made by General Electric Co (Geco) model number 2501, in.
a brown wooden case with a bakelite top and controls. It required two batteries (storage and/or dry for low and high tension) and would have had plug-in coils for medium and long wavebands.
The four images of the radio show the overall configuration (2010.095.01); the inner workings (.02); the bakelite top and controls (03) showing the two pairs of 'Phones' (headphone) connectors at bottom left, the valves in place and the central two connectors for 'Resistance' amd 'Loading Coil's, HT (high tension) and LT (low tension) battery connectors on the right and aerial and earth connectors on the left; and the box front panel (04) with the label Gecophone and the addition of the Dornoch Electrician's trade plate.
[Marconi Osram valves are stored separately see 2010_096]
Picture added on 18 October 2010
Comments: