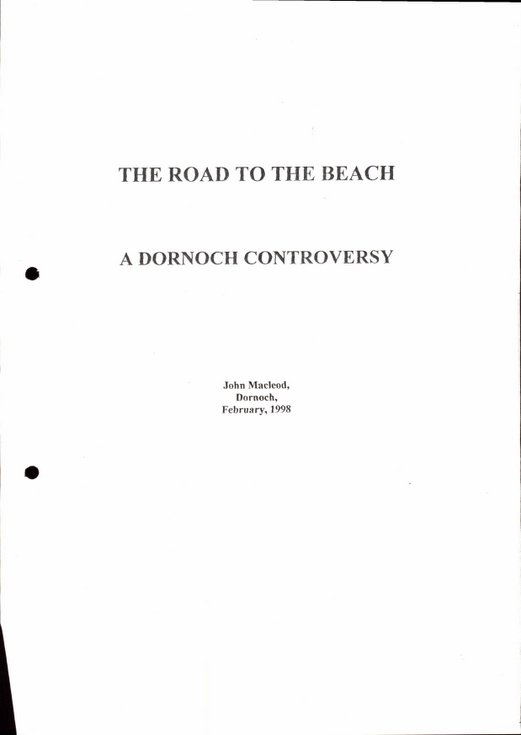 Historylinks
New Picture
Copy of a typewritten document 'The Road to the Beach - A Dornoch Controversy' of 28 pages. In 1931 the community of Dornoch was split by controversy - the Town Council proposed to "upgrade the road running in front of the 1st tee of the Royal Dornoch Golf Club "to provide better facilities for Motor Cars and Bathers to reach the Beach". The background to this story is that the ground used for the original Dornoch Golf Club course, as laid out by Old Tom Morris in the 1860's, was almost entirely on the Common Good Land of the Royal Burgh of Dornoch, administered by Dornoch Town Council. In 1904 the course was extended onto Embo Street Common Grazing, and in 1948 extended further onto Embo Common Grazing. In addition the pre-war Ladies Course, much of which was f'lattened in 1940 to provide an airstrip, was on Common Good Land, as is the present Struie Course. At the time of publication of the document, less than half of the Championship Course occupied Common Good Land. As a result of the Town Council control of the Common Good Land, the Golf Club had to apply to the Town Council for permission for any work done on that land, such as laying water pipes and so on, but not, apparently, for golfing alterations such as to tees and bunkers. The situation changed with the award of a 99 year lease in 1975, when the Golf Club could more or less do what it liked in the golfing sense on the leased area. However, in 1930 the Town Council had firm control over the use of the Common Good land and it could do more or less what it liked there. As a result of an apparently innocuous motion passed by the Town Council, strong feelings were raised both for and against the proposal, with reverberations that to some extent continue. The document ends with the words:
"POST'SCRIPT In 1998 there are those who propose closing the road along the high route and grassing it over, on the grounds that the low route is so much better than it used to be.
Any way its all over now ....or is it"
Picture added on 30 June 2017 at 10:21